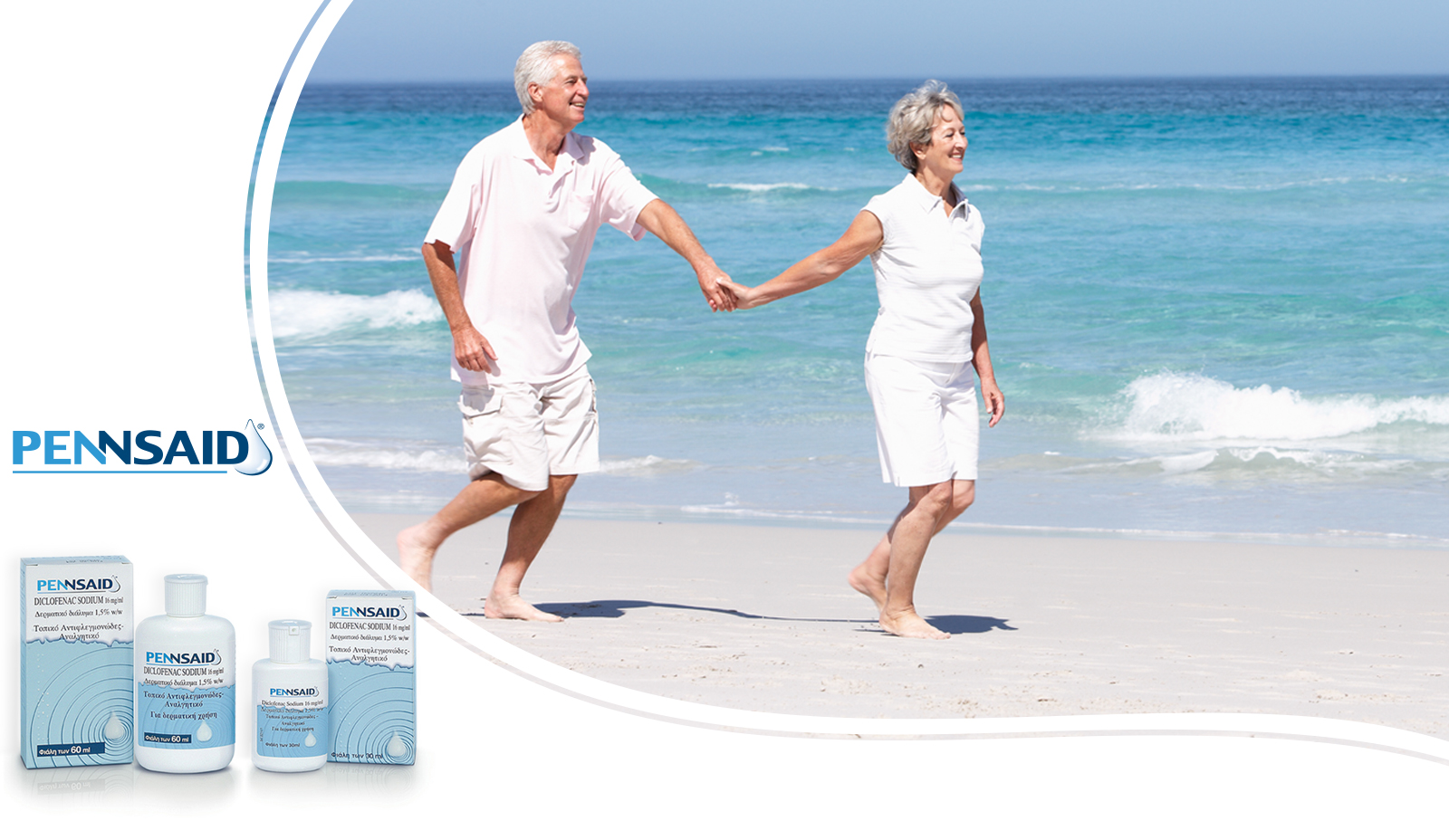 Knee osteoarthritis...
Is a very common condition. It is the most common cause of workplace absence and it is linked to a low quality of life. The main symptoms of knee osteoarthritis are pain, stiffness, swelling, and joint deformity.
PENNSAID is a non-steroidal anti-inflammatory drug used to treat joint pain caused by osteoarthritis.
Thanks to dimethyl sulphoxide (DMSO), the drug is delivered directly to the pain and inflammation site through the skin. Contrary to oral medications, which are delivered throughout the body, PENNSAID is a more «targeted» treatment.
PENNSAID contains 16mg/ml of the active substance diclofenac sodium.
The effectiveness of PENNSAID is supported by three clinical trials.
Available in 30ml or 60 ml bottles.
Dosage: Apply twenty (20) to forty (40) drops to each joint four times per day.
GAME-CHANGING INNOVATION
The only topical anti-inflammatory drug containing a «vehicle» (transdermal carrier).
Targeted relief from inflammation and pain.
Excellent safety profile.
Innovative pharmaceutical form.
Improved patient compliance.
Do not use: if you are allergic to diclofenac, DMSO or any other ingredient of the product, if you are pregnant or breast feeding, if you have experienced difficulty breathing, hives, or allergic-type reactions after taking aspirin ibuprofen, or other NSAIDs, on open wounds, on joints where there is previous skin disease.
Wash hands after use. Avoid contact with the eyes, nose, and mouth. For external use only.
---
THE MINISTRY OF HEALTH AND THE NATIONAL ORGANISATION FOR MEDICINES SUGGEST: READ THE PATIENT INFORMATION LEAFLET CAREFULLY. CONSULT YOUR DOCTOR OR PHARMACIST. NOT INDICATED FOR INDIVIDUALS WITH KNOWN SENSITIVITY TO NON-STEROIDAL ANTI-INFLAMMATORY DRUGS, WOMEN WHO ARE PREGNANT OR BREASTFEEDING, AND YOUNG CHILDREN. NOT TO BE APPLIED ON MUCOUS MEMBRANES, OPEN WOUNDS, OR SITES AFFECTED BY SKIN CONDITIONS.