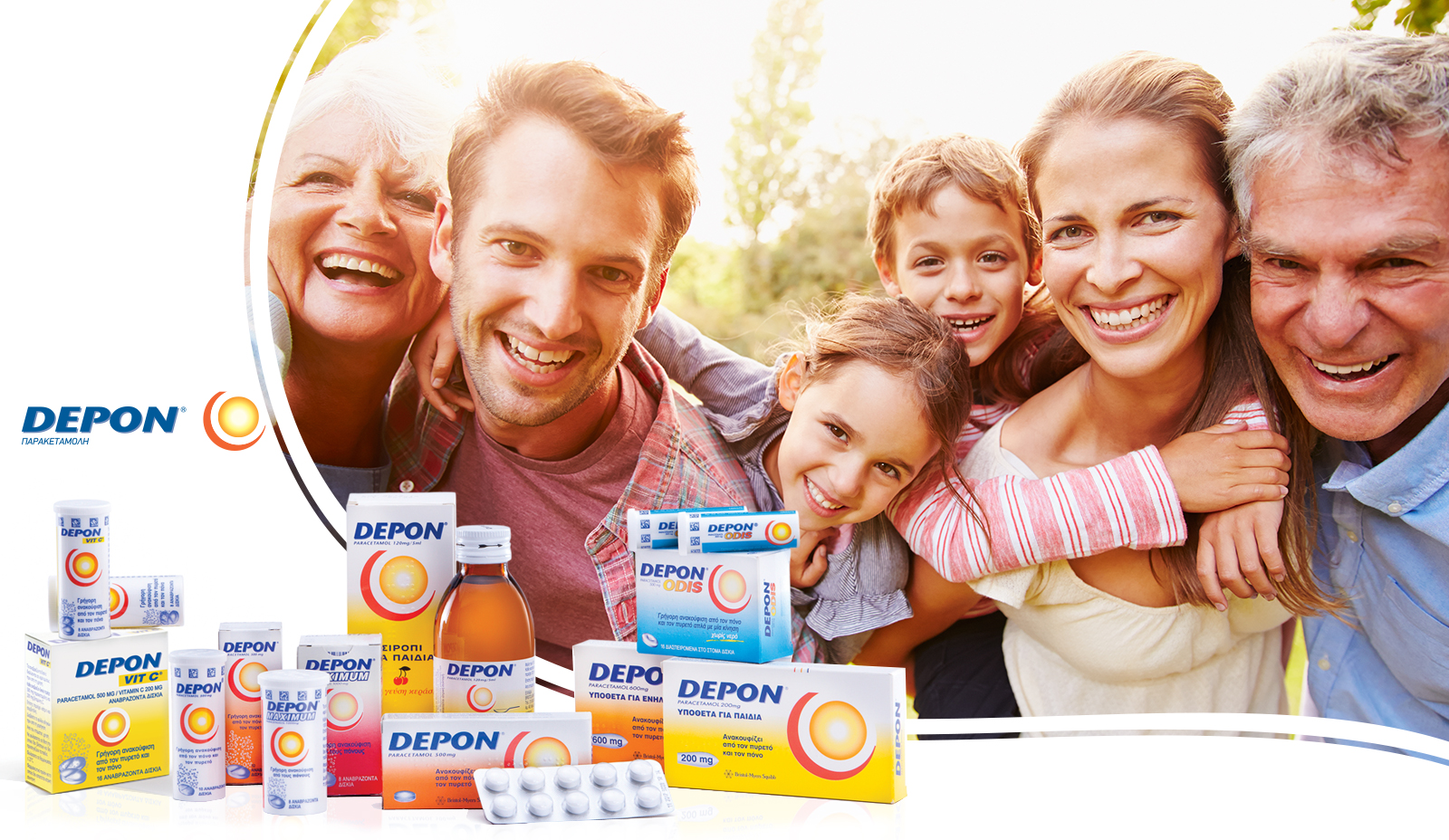 DEPON® contains the active substance paracetamol, one of the most popular analgesic substances in the world, which is available without a prescription.
DEPON® is the top non-narcotic analgesic*.
Relieves from:
Headaches
Fever
Menstrual pain
Neuralgia
Tooth pain
Joint pain
Muscle pain
DEPON® is available in various forms:
DEPON® MAXIMUM: 1,000mg paracetamol for quick relief.
DEPON® 500mg paracetamol tablet: The all-time-classic, easy-to-swallow DEPON tablet.
DEPON® 500mg effervescent paracetamol tablet, non-flavoured.
DEPON® VIT C: Covers the body's increased need in vitamin C.
DEPON® ODIS: The only orodispersible painkiller (disintegrates orally without water).
DEPON® Syrup for children, cherry-flavoured.
DEPON® 200mg and 600mg paracetamol suppositories for children and adults respectively, when other pharmaceutical forms are deemed unsuitable (e.g. due to gastrointestinal disorders).
*Source: IQVIA, MAT, October 2019
---
Do not take this medicine: if You are allergic (hypersensitive) to the active substance or any of the other ingredients, if you have severe liver or renal impairment, if you have kidney stones (only the effervescent form).
The content of this website is not and should not be interpreted as a substitute for medical advice, for which you should and are advised to consult your doctor or pharmacist.
THE MINISTRY OF HEALTH AND THE NATIONAL ORGANISATION FOR MEDICINES SUGGEST: READ THE PATIENT INFORMATION LEAFLET CAREFULLY. CONSULT YOUR DOCTOR OR PHARMACIST