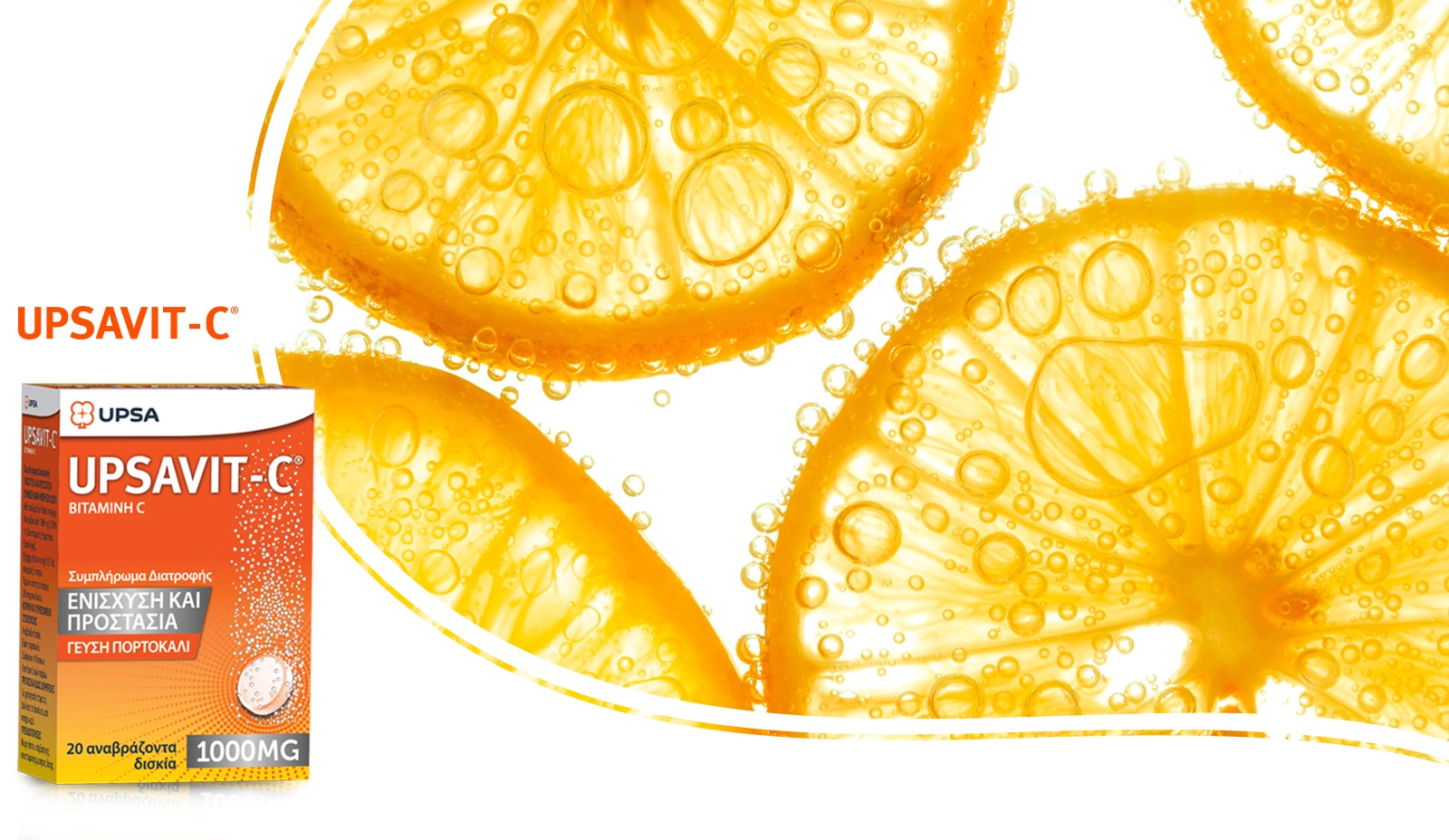 Daily protection & strength
Vitamin C, also known as L-Ascorbic acid, is a water-soluble vitamin, that we need to take daily as the human body cannot produce it. It is found naturally in citrus fruit and vegetables. During periods of unbalanced diet and recovery, human body's vitamin C requirements may not be adequately met. Since our bodies cannot produce or store vitamin C, an adequate daily intake of this nutrient is essential for optimum health1.
UPSAVIT-C® is manufactured by the pharmaceutical company UPSA
Each box contains 20 effervescent tablets (2 tubes, 10 tablets each).
Each tablet contains 1,000mg of L-Ascorbic acid.
According to the European Food Safety Authority (EFSA), vitamin C contributes to2:
Normal collagen formation for the normal function of blood vessels, bones, cartilage, skin, gums and teeth.
Normal energy-yielding metabolism & the reduction of tiredness and fatigue.
Normal function of the nervous system.
Normal psychological function.
The protection of cells from oxidative stress.
The normal function of the immune system during or after vigorous physical activity.
Iron absorption.
Sources:
National Institutes of Health (9 July 2019). Vitamin C, Fact Sheet for Health Professionals. Retrieved from: https://ods.od.nih.gov/factsheets/VitaminC-HealthProfessional/
Official Journal of the European Union: COMMISSION REGULATION (EU) No432/2012
---
Do not exceed the recommended daily dose. Food supplements should not be used as a substitute for a balanced diet. These products were not developed for the prevention, treatment, or cure of human disease. Consult your doctor if you are pregnant or breastfeeding, taking any medication, or if you have any known health issues.