Tonotil (General Information)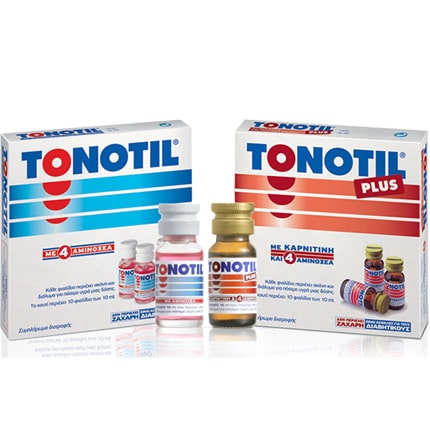 | | | |
| --- | --- | --- |
| Our life-style is very often such that we suffer from physical, and mental exhaustion. Tonotil is recommended when, for example, we endure periods of intense physical, mental and psychological stress, examination periods, excessive physical training and unbalanced diets as well as for preventive reasons. | | |
n such cases it is wise to strengthen our systems with suitable means of reinforcement.

Reinforcement such as ΤΟΝΟΤΙL !

The Tonotil supplement range contains products which respond selectively to various needs and is suitable for all ages and at any time of the year.


Available in smart packaging!


The ingredients are well-protected as they are kept separately in the lid (powder form) and in the ampoule (solution) and are easily mixed.

For Use:
Remove the ampoule's metal cap by pulling at the side-extension

Push the red piston so as to puncture the lower side of the lid, thus releasing the powder into the solution.

Shake the ampoule well. Remove the lid and drink immediately as is or by pouring into a  little water, as desired.
Recommended for periods of physical or mental fatigue.

ΤΟΝΟΤΙL with 4 amino acids, effectively boosts the organism and improves the mood.
Enhances the appetite, refreshes from physical, mental and spiritual exhaustion, combats nervous tension and aids in recovery after an operation or any illness. In addition, it guarantees the daily intake of important anaplastic compounds (essential amino acids).
Τ

Ο

ΝΟΤΙL Plus with carnitine and four amino acids is  recommended for individuals requiring superior energy and strength for large time periods. It is especially useful for: